FieldCloud Sales for Sales Professionals
Start your day faster with a personalized home page.
Your FieldCloud Sales home page is more than just a business performance dashboard: It's an instant snapshot of your sales pipeline development. Stay on the sales fast track with the interactive Performance Chart, and gain background intelligence on prospects and industries with Account Insights. You even have a personal assistant to alert you on overdue tasks and trouble spots, along with hot leads and opportunities.
Make the most of every selling moment.
FieldSales drives sales performance by showing all your opportunities in one place and revealing critical information in a detailed activity timeline. Know your competition, deal stages, and next moves to increase sales revenue.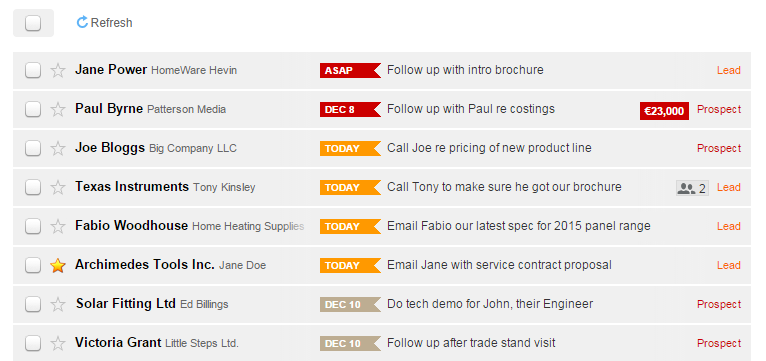 Pipeline development. Made unstoppable.
Growing a pipeline starts with intelligently tracking leads through CRM data analysis and advanced sales forecasts. Turn to the ultimate sales pipeline tool for the most up-to-date contact information, sales productivity metrics, and best practices.
Partner with your customers. Grow sales.
Your customer data is always at hand in FieldSales, including key contacts, communication history, and more. By seeing where your customers are in the sales cycle, other deals they touch, and the best ways to engage and work together, you gain a clear picture of your sales growth strategy.
Learn more about the top FieldCloud Sales features for sales professionals:
Opportunity Management
Stay connected to the people and information you need to close every sale, from anywhere.
Accounts and Contacts
Get a complete view of your customers, including activity history, contacts, and internal and customer communications.
Sales Data and Intelligence
Increase sales productivity by getting the right sales data at the right time, and connecting with key decision-makers faster.
Reports and Dashboards
Easily track lead volume, conversion rates, and every part of your pipeline for a real-time view of the state of your business.
FEATURES
Sales Management
Contact Management
Sales Team Collaboration
Sales Forecasting
Mobile CRM for Android
PEOPLES
Sales Professionals
Sales Leaders
Sales Operations
Marketing Leaders
COMPANY
Platform
About Us
Resources
Apps Store
Guides
Contact Us
B2l Mobitech Pvt Ltd,
Email: info@b2lmobitech.in